Aeroshell
Grease 33
$32KG
Trast Aerosupermarket (Aquiline Internationl Goup of Companies) offers AeroShell Grease 33 from its premises at Sharjah International Airport Free Zone (SAIF Zone) available for immediate sales worldwide.
UAE Phone: +971 (6) 5570710, International phone: +8 835 1000 124 3547 e-mail:
Aeroshell Grease 33
Buy AeroShell Grease 33
Proven quality
Superior corrosion resistance
TEST 1- Compare the anti-corrosion properties with a competitor MIL-PRF-81322F Grease
Corrosion Prevention Test (Modified ASTM D1743)
Bearings: Timken cone and roller assembly.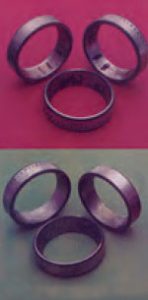 Procedure: Bearings packed with test grease and rotated under light load for 60 seconds, then submerged in 3% salt solution for one minute and then stored at 52ºC and 100% humidity for 12 hrs. Bearings disassembled and bearing races examined for rust.
AeroShell Grease 33 - no corrosion Competitor grease - corrosion between rollers and race
Longer equipment life
TEST 2 - Compare the EP performance with a competitor MIL-PRF-81322F Grease.
Timken EP Test (ASTM D2509)
Test cup rotates on test block under load while being continuously fed with fresh grease.
Load: 40lbs; Speed: 800rpm
Duration: 10 minutes, or until noise and vibration indicate failure, whichever comes first. Wear scar measured on completion of test.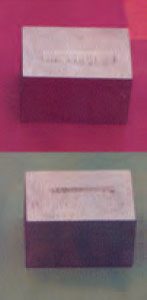 AeroShell Grease 33 - small wear scar
Competitor grease - large wear scar
Exceeding specifications
TEST 3 - AeroShell Grease 33 against the latest
version of Boeing specifications BMS 3-33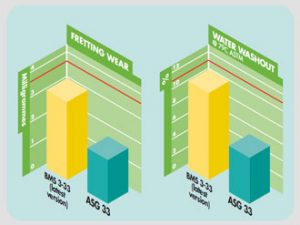 ---
 Download MSDS AeroShell Grease 33

 AeroShell Products

 HIGH PERFORMANCE GREASES AND HYDRAULIC FLUIDS
BMS 3-33 Approved
Left Flap Work and Aileron Installation
AeroShell Products Packaging
Perfect Partners
Proven quality
Withdrawal of AeroShell Grease 16
What Are They And How Do They Differ?
Boeing 737 - AeroShell Grease 33
Aerosol Grease D-5933NS
AEROSHELL Grease 33 is our newest generation multi-purpose synthetic grease. It is specifically designed to lubricate a wide range of applications and operating conditions on commercial aircraft. It is approved for Boeing's BMS 3-33 specification and it covers the operating temperature range between –73 °C and +121 °C.